Backstory is "a history or background, especially one created for a fictional character in a motion picture or television program" (Oxford Languages, via Google). Backstory is important in fiction, but not necessary. You can tell a perfectly good tale that just stays in the here and now, especially if it's in a genre that relies heavily on action and/or tension, like horror or thrillers. However, mentioning events that happen before the book begins helps readers to flesh out those bare bones of character and world development; it brings nuance and makes the story part of something bigger, extending beyond the pages.
I "researched' the subject (and by "research", I mean I did a brief internet dive) and found plenty of articles and posts on how to write backstory, but very little on what sort of backstory a novel actually needs. And because not all backstory serves the same purpose, I thought it might be interesting to look at a few different types.
1. The Aragorn Son of Arathorn Backstory: these are the epic 'big picture' backstories that shape everything that takes place in a book. This sort of backstory works like a prequel. Think of The Lord of the Rings, and how the War of the Last Alliance and Isildur's death set the stage for Frodo's quest. Aragorn is the walking, talking, sword-fighting, horse-riding embodiment of this type of backstory, and his introduction to J.R.R Tolkien's epic brings past and present together. Tolkien even gives us a backstory within a backstory, with brief mentions of older times, like backstory nesting dolls.
I am Aragorn son of Arathorn, and am called Elessar the Elfstone, Dunadan. The heir of Isildur Elendil's son of Gondor. Here is the Sword that was Broken and is forged again!

J.R.R Tolkien, The Two Towers
2. The As You Know Bob Backstory: sometimes, especially with the sort of sweeping worldbuilding you get in epic fantasy and really big space operas, you just need a reader to understand. A skilled author can manage this without making it look like a misplaced lecture (avoiding the 'as you know, Bob' trap). This is slightly different from the big picture backstory, as it's not a prequel, exactly, but more an encyclopedic footnote to make sure everyone knows what's going on. It's usually handled discreetly and blends in with the story, but this sort of backstory can become a feature in of itself. Douglas Adams used this masterfully in The Hitchhiker's Guide to the Galaxy!
In the beginning the Universe was created. This has made a lot of people very angry and been widely regarded as a bad move.

Douglas Adams, The Hitchhiker's Guide to the Galaxy
3. The My Name is Inigo Montoya Backstory: these are backstories that serve mainly to add depth and motivation to characters. These are usually drip-fed slowly at the right moments in order to help readers understand, emphasize, and connect with the characters. William Goldman played around with this hilariously in The Princess Bride with Inigo Montoya, a character who is basically just backstory. For less comedic examples, think superhero origin stories (Batman, anyone?), or how Disney took Maleficent and, in the movie of the same name, turned a cardboard cut-out villain into a sympathetic character with a very real reason to be angry at the world.
Hello, my name is Inigo Montoya, you killed my father, prepare to die.

William Goldman, The Princess Bride
4. The I Am Your Father Backstory: this one is a subset of the Inigo Montoya backstory, but focuses on a Big Reveal moment that serves as a plot twist. This is the catalyst for a kaleidoscope moment, when everything changes and the picture shuffles around into something quite different. Luke and Darth Vader's scene in The Empire Strikes Back is an iconic one, not only twisting Luke's past into something new, but changing the direction of his future — a future where he must not only learn to be a Jedi, but understand why his father lost his way and how he can avoid the same trap. Vader's classic (and often misquoted) line was beautifully subverted in the 1987 movie Spaceballs, turning an important bit of backstory into something essentially meaningless.
Dark Helmet: I am your father's brother's nephew's cousin's former roommate.

Lone Star: So what does that make us?

Dark Helmet: Absolutely nothing!

Spaceballs
5. The Just Like Budapest Backstory: the quirky little mentions that are never really fully developed and could be removed entirely without harming the story, but that hint at a much larger picture than we get a chance to see, adding color and shading. Think of the throwaway mention of Budapest by Clint and Natasha in The Avengers, that wonderfully enticing sliver of their past. I'm actually sorry that we finally got the story behind Budapest in Black Widow. Sometimes it's nice to just…wonder. This sort of backstory delights in acting as a sort of teaser trailer, allowing us to imagine that the characters have lived a life far vaster than this small part the author is sharing with us.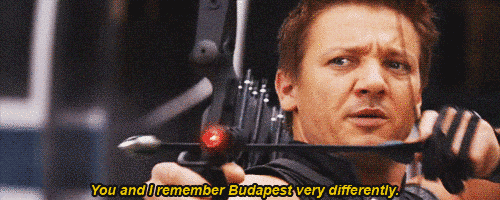 The above are some of the main types of backstory you might want to include in your work. Do you need backstory? And how much? That's up to you, and will depend on your writing style and the type of project you're working on.